Purple Faerie - The gorgeous faerie wears the most delicate of garb, a two-layer hand-painted dress of satin & chiffon. Thanks to you, Faerie, for looking so wonderful in this dress!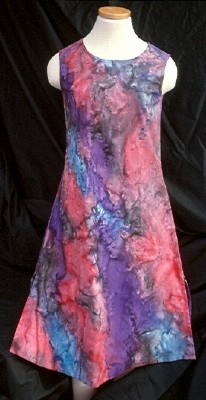 Simple tank dress in hand-painted cotton. This particular dress is made from fabric that was exhibited at the Quilt Surface Design Symposium in Columbus, Ohio in 2001, so this is definitely one-of-a-kind (size extra small). Any color or combination thereof . . .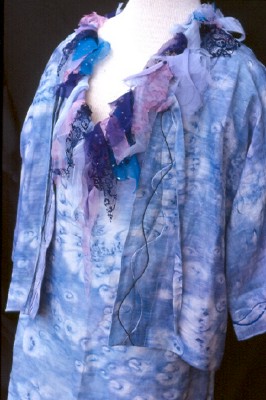 A simple, contemporary dress in a silk/hemp blend - cap sleeves, side slits, in-seam pockets, & a v-neck embellished with scraps of chiffon & satins that flutter Renaissance-style, framing your face. Topped with a little jacket of the same fabric with a tie front & embellished with swirls of trim & braid.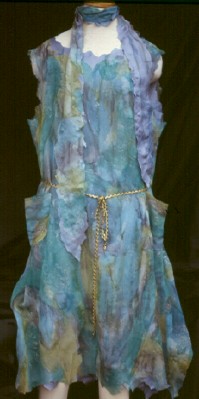 Two unattached layers of hand-painted sheer fabrics, edges scissor chopped so that the layers flutter & spill out over each other. There are patch pockets on the hips & a tiny belt of metallic braid slung low like the garments in Medieval times. Matching long, narrow scarf is also two layers of fabric.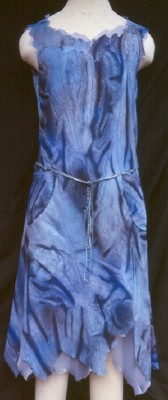 The raw-edged tank dress in a different fabrication, this time the painted outer layer is a textured crepe poly, the unattached under layer is chiffon. This photo gives you a good look at the detailing. The raw edges will soften with time, but don't worry about serious fraying. Care: hand wash in cold water & drip dry.

This cotton tank top & elastic-waist skirt work as a dress or separates. Everyone seems to love this discharged fabric, both dramatic & subtle.