Right now I'm into black accents & edges. This raw silk fabric was painted in swirls & splatters in black, then covered in a soft heather green. The neckline & arm openings are edged in black netting. The cut of this tank is a little different too - I call it the petal bottom, where the hem flares out like a flower to be a little flirty & feminine.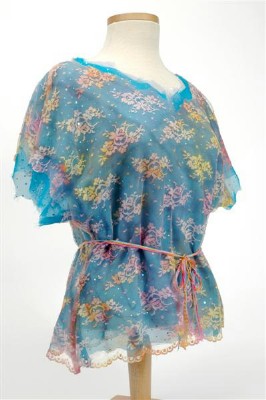 Painted lace over turquoise sequioned chiffon over lavendar chiffon - wear all or just one with your own tank or camisole. I love painted lace. . .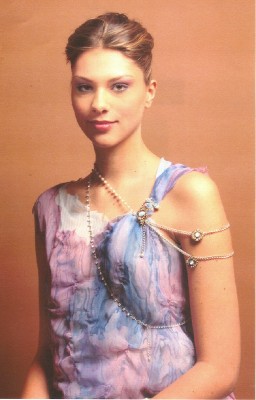 Unattached layers of hand-painted chiffon, with areas of "scrunching" done by sewing machine, fluttering raw edges - she looks like a Medieval princess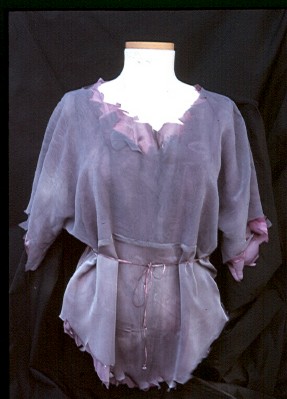 Underneath layer is hand-painted crepe, outer layer is made of two different textures of chiffon in dove gray. Even the little tie is hand-painted.
Painted chiffon outer layer, sequoined chiffon inner layer; this top is shown over the Big Zip skirt.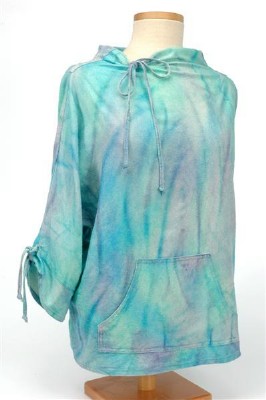 Ties scrunch down the funnel neck & sleeves of this raw silk top with a pouch pocket on front. A new design for winter.
Close-up of raw silk 3/4 sleeve tunic with scarf, painted in colors inspired by a magnificent maple tree I drive past on the way to the post office!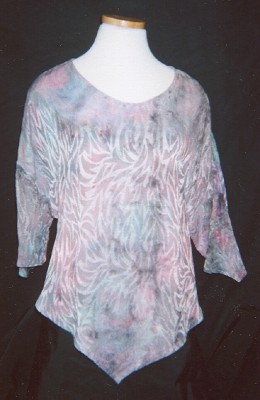 I call it the "Gypsy Top", with v-neck, points at the sleeve, & front & back bottom. This one is made from one of my most popular fabrics, hand-painted raw silk jacquard.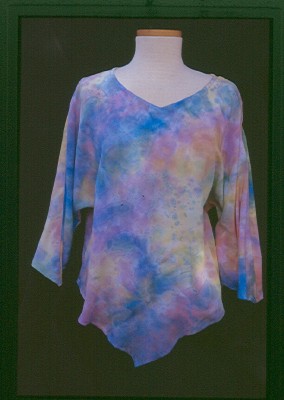 Another version of the "Gypsy Top", this time in summer colors on drapey rayon fabric.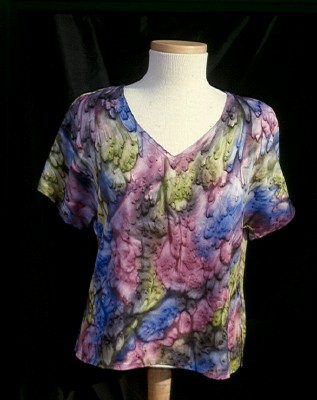 This fabric has to be touched to be appreciated - sueded silk charmeuse! Hand-painted using a technique that creates intricate swirls of color. Perfect with a business suit.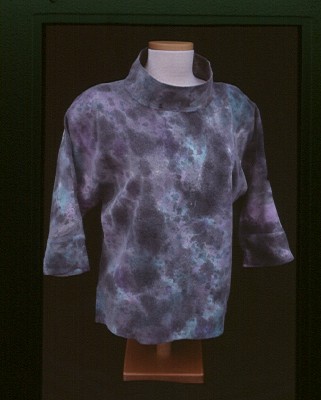 Raw silk, painted in colors inspired by the mosses & patina on ancient stone circles & cairns of Druid Britain, & a touch of purple like heather in the heavy mist of time. Stand-up cowl neck & 3/4 sleeves will take you through fall, winter & spring.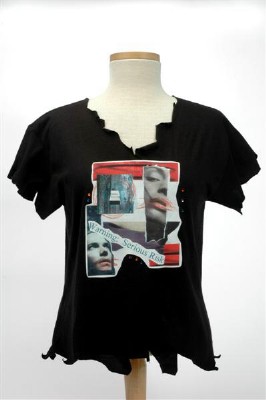 Art Tee-Shirt, with several different pieces of art available for the front, all scans of my paper collage "Romance Novel" series (pictured: Warning: Serious Risk). The neckline, sleeves & bottom are scissor chopped, the sides are taken in for a fitted look, & rhinestones are added randomly around the image. Machine wash inside-out in cold water, but don't put this one in the dryer. Contact me to see the other collage images available.
All garments are hand wash in cold water, drip dry, carefully iron if needed.