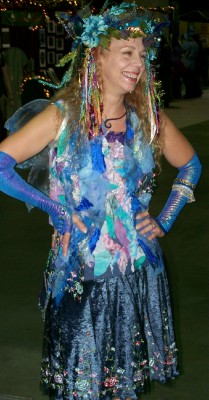 Blue Faerie - Wearing the most beautiful skirt! Paint-splattered denim hip band with a blue crushed velvet, lettuce-edged skirt, & an embroidered net overlay. On top, a shag silk tank top & a shag scarf. A zipper bracelet rides high on her forearm. Thank you, beautiful Blue Faerie!
Lots of research took place at the Lycoming County Historical Museum so that I knew how to make this skirt just like they were made in the 1880s. The ladylike movement of this skirt when Mrs. Rowley strolls is just magnificent! Want a skirt like this? Contact me. A skirt paired with your own blouse is a quick way to get a good-looking Victorian outfit.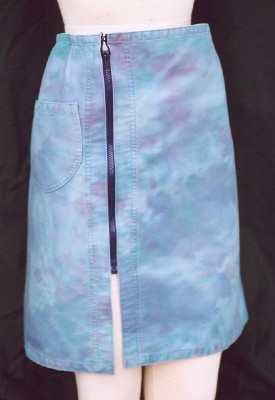 The Big Zip skirt, shown here in a light turquois denim with a faint colorwash. This picture shows the basic skirt design that I use for some of my suits. This is one piece of fabric, top-stitched & darted with varigated thread, with the zipper over one leg, stopping short to create the slit for walking ease. You may order just this skirt in any fabric available, just ask. . .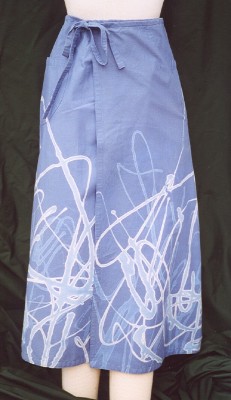 The discharged cotton wrap skirt is one piece of fabric, darted to fit, tied at the waist, & falling a few inches below the knee. Available in many colors, & can be matched to the Cosmic Kimono for a suited look. This is the skirt that fills my closet; this is the skirt that you'll see me wearing in many, many colors.
Unique Clothing for Interesting People!