Rainbow kimono-style jacket of painted lace with ribbon trim.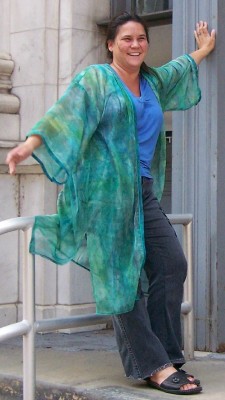 Keiko, with the beautiful smile, wearing a duster-length chiffon kimono - available in all the colors of the rainbow & then some!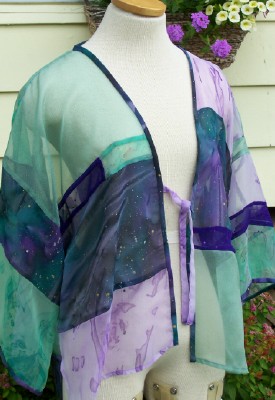 I love working with sheer fabrics. This is my latest version of a kimono, pieced together with French seaming, using gorgeous sheer fabrics, some I painted, some I just love as they are. Any color available - this one was a special order using soft greens & purples.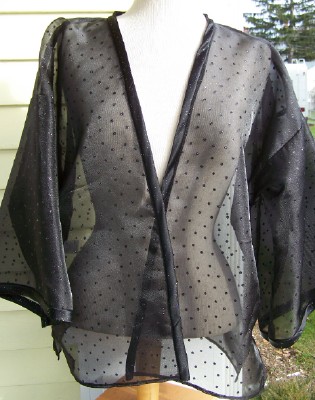 Black organza with a little sparkly dot.
Chiffon with a flocked & sparkly animal-like design.
A special order from an established customer gave me free rein to try an idea I'd had for awhile - using real leaves to make a negative impression, then embellish the design with free-hand drawing - all done in metallics, of course.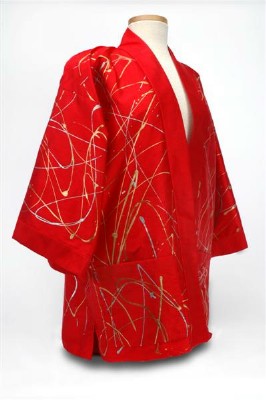 Red silk dupioni with swirls of gold, silver & bronze.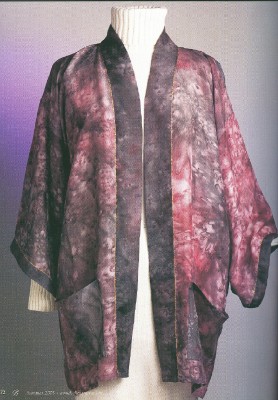 Butterfly Kimono, as seen in Belle Armoire magazine, Summer 2003 issue.
This floaty unlined silk Habotae kimono is twice painted to create rich colors & intricate patterns. Sewn with French seams & metallic trim along the bands.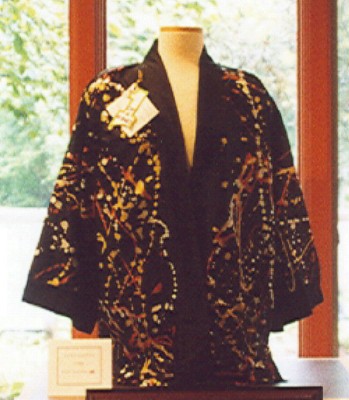 Night at the Opera Kimono, photographed on exhibit at the gallery in Historic Yellow Springs, Pennsylvania in 2003. This dramatic garment is made of Dupioni silk & painted with swirls of gold, silver & copper fabric paints, sewn with French seams, unlined, & available in many colors. Also looks great with pastel metallic swirls.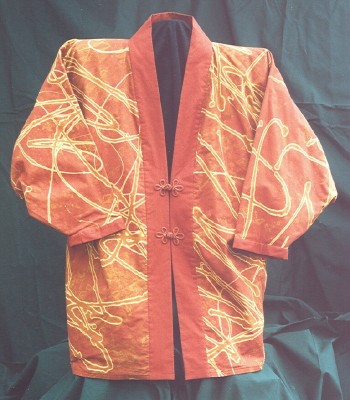 Cosmic Kimono is made of discharged cotton, lined & banded with the same fabric without the discharge process. (Discharging is the removal of color.) This garment is available in brown (as shown), black (pattern is rust), purple (lavendar), burgundy (rose), more than one shade of blue (some tan, some light blue), peach (lighter peach), gray (a beautiful pink) - but no green - it just won't discharge!