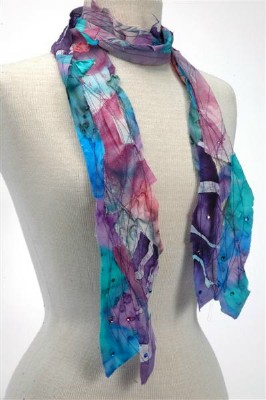 What is "Shag"? My name for a process I've created for making sheer, full-of-holes fabric from small pieces of my hand-painted silks or other varied & interesting fabrics. Threads criss-cross from snippet to snippet, making spider-web affects & a soft texture that unifies the scarf. Long & narrow, about 6 x 64 inches, for stylish neck wrapping, belt, hat scarf, etc., - be creative, have fun.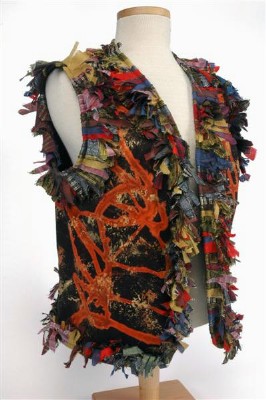 This "furr"-lined vest is made of discharged cotton with just a touch of metallic sponging, & then the edges are embellished with raw-edge fringe made of "cotton lame" fabrics. Striking over an all-black outfit.
Painted lace poncho, this one with a vintage 1940s abalone shell button, the top folds over creating a draped cowl collar. I have other laces available.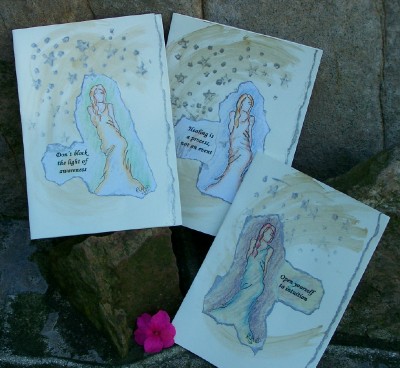 Greeting cards, handmade by me, featuring my goddess artwork along with "words of wisdom" on the front. The insides are blank so that you may write your own message. The back of each card explains the goddess art that I create. Card & envelop are scattered with silver stars. Shown left to right: "Don't block the light of awareness", "Healing is a process, not an event", "Open yourself to intuition" - contact me for other sayings that are available.
Unique Clothing for Interesting People!