Drama Queen Jacket - discharged cotton with metallic sponging, patch pockets, fully lined, lay-back collar, roll-up sleeves, removeable shoulder pads.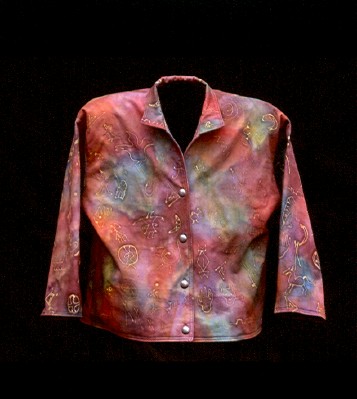 Petroglyph Jacket, covered with Southwest Native American designs, laboriously drawn with batik wax. This difficult surface design technique results in a "buckskin" look. Surprise inside on the lining - a large petroglyph horse! Indian head silver buttons, all top-stitching done with heavy varigated cotton thread. Side seam pockets & removeable shoulder pads. (Also available, a hunter's style vest in this fabric.)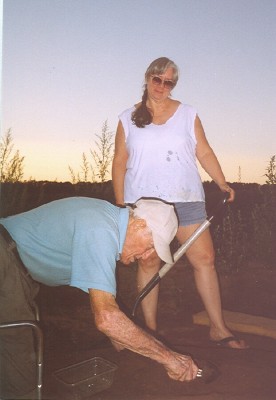 Speaking of Indians, archaeology is one of my interests. Here I am at the "dig" near Montoursville, PA with long-time archaeologist friend Jim Bressler. He's working - I'm waiting with the shovel. Archaeology's physical & mental labors have kept this 90-year-old very young, as he puts the rest of us to shame, & has forgotten more than we'll ever know. It's an honor to have worked with him!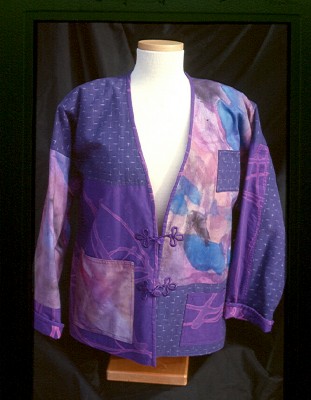 Three-Fabric Jacket - hand-painted & discharged cottons teamed with an interesting Indonesian Ikat. This jacket is also pieced on the back & sleeves, has 3 different sized patch pockets, painted-to-match frog closures, roll-up sleeves, removeable shoulder pads & is fully lined in the discharged fabric. This is so much more fun than a jeans jacket! Available in any color, with other fabrics such as vintage drapery or exotic Orientals.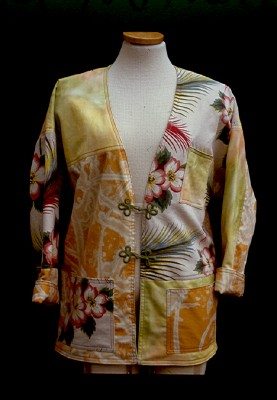 Another version of the Three-Fabric Jacket in sunny colors of hand-painted & discharged fabrics teamed with a circa-1940 vintage drape from an antique dealer.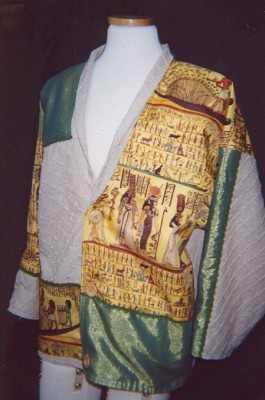 Another version of using three fabrics to make a striking jacket, this one an ode to my lifelong interest in Ancient Eqypt. This fully lined jacket has one patch pocket & a shawl collar.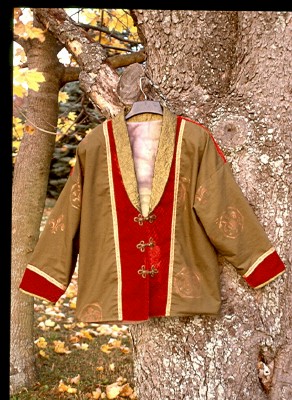 Copper dragons on heavy forest green cotton paired with textured velvet & metallic braids & trims - this is the kind of jacket a Medieval Lady might wear to sneak off to visit her Troubadour. Fully lined with hand-painted cotton, side seam pockets & removeable shoulder pads. This one-of-a-kind garment is sold, but trust me to create something similar for you, any color, any size.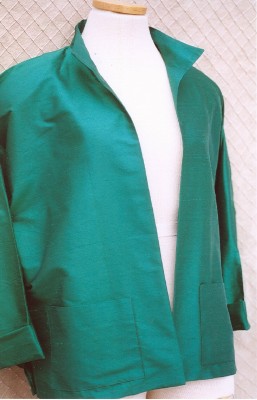 No surface design here, just luscious Dupioni silk, light as a feather. This shirt-jac is unlined, sewn with French seams, has roll-up 3/4 sleeves, lay-back collar, patch pockets & removeable shoulder pads. I have many colors ready to custom sew for you - red, purple, gold, hot pink, teal, black, emerald green.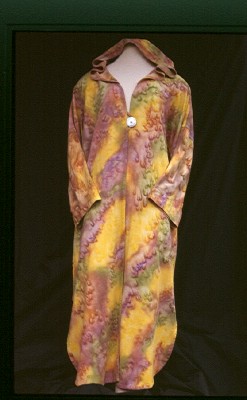 Raw silk hooded mid-calf jacket is unlined & can be custom painted, like this one was for a special customer, in the colors of your choice. Also available in the beautiful painted metallic laces like the ponchos on the Acessories page.